Bell Family
There are 4 different Bells on the Brant Broughton and Leadenham war memorials.   We've not found how they are connected yet, but the Brant Broughton family actually lived in Leadenham Lowfields.
Bell Family – Brant Broughton
Joseph Bell was born at Tanvats Farm, Metheringham Fen in 1866.  Four years later his older brother Henry (10) shot himself accidently whilst 'tenting'.  
Joseph married Fanny Emma Bee in 1887; she already had a son Charles.  They lived at Tanvats and at the nearby Blankney Fen until moving to Leadenham Lowfields around 1908.   They had 13 children including:
Charles                        c1884
Kate E                          c 1889
Florence                      c1891
Martha J                      c 1892
John William               1894
Daisy                           c 1897
Hepzibah Bee              c1898
Joseph Edw                c1904
Ernest                          c1905 
Ivy                               c1905
Dorothy                       c1906
Violet Evelyn              c1908
Alice Gertrude            c1910
On Sat 13th Jan 1917 they were living in Leadenham Lowfields when Fanny Emma went to Brant Broughton with 2 of her daughters.  She bought half a pint of whisky at the Red Lion at 11.30am.  Later that day she sent the girls home and bought another half a pint of whisky at 5.30, about the time they arrived home without her.
Joseph found her body in the River Brant the next morning, 350 yards downstream from the plank bridge she would have crossed on the way home.  At the inquest she was reported to have been drunk in Brant Broughton at 5.30pm and the doctor said she had chronic alcoholism.  Several weeks before she'd fallen off the plank bridge through catching her dress on the handrail and Joseph had pulled her out the river.  The jury commented that the bridge was dangerous and should be improved.
In 1917 there was a footpath from just south of Brant Broughton, across the Brant towards 'Oak Trees' and another path that cut the corner towards Leadenham Mill, crossing the Brant before joining the A17.  The inquest heard that she'd been worried about a son who'd been wounded and another in France. 
John William Bell served in 2/4th Battalion Lincolnshire Regiment.  He died on 8th June 1917.  He has no known grave but is listed on the Thiepval memorial as well as the Brant Broughton war memorial.
In 1911 Charles Bee was in Beckingham, working as a wagoner on a farm.  In Feb 1916 he was a horseman, living in Nelson St, Lincoln (off Carholme Road) when he joined up in Lincoln.  He served in France with 2nd battalion Durham Light Infantry (DLI) from Aug 1916.
He died of wounds on 11th Jan 1917 and was buried at Bethune, where he was probably being treated at 33rd Casualty Clearing Station.  The last major engagement 2DLI had been involved with was the Battle of Transloy Ridges during the Somme campaign in Oct 1916.
After the war Mrs Annie Daubney of Water House, Burton (near Lincoln) wrote to the authorities asking if she could have Charles' medals.  It appears he was going to marry her daughter and had treated Mrs Daubney like a mother in the preceding years.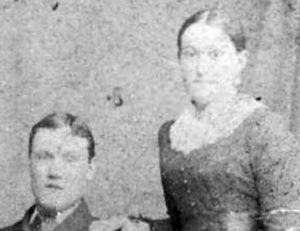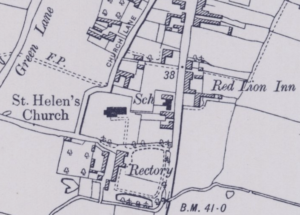 Leadenham – George Bell
The G Bell on the Leadenham war memorial may be George William Bell, born in Fulbeck in 1879. 
His grandfather, William Bell, was born in Fulbeck in 1832.  He served for 21 years in 1st Battalion, Scots Fusilier Guards, including the Crimean War (1853-56) where he was at the fall of Sebastapol.  In 1861 he was based in London when he married Sarah Hall.  Later that year their first daughter Mary Jane was born in Marylebone.   They stayed in London until about 1876 when they retired to Fulbeck on William's army pension.
Mary Jane would have been 17 when she had George William in 1879.  Two years later she was working as a servant at the Tin Man's shop in Fulbeck.  Her son George William was living with her parents and their other children in Fulbeck.
By 1901 George was 22 and working as a groom.  He was still living with his grandparents on High Rd, Fulbeck.  They then moved to Leadenham, where William died in 1909.  The following year George married Anne Elizabeth Towers (born Long Bennington) and they moved to 37 Danesgate, Lincoln where George was an electrician.