Jimmy Bellamy
James (Jimmy) Bellamy was born abt 1888 in Dry Doddington.  His parents were James (a bootmaker, born Dry Doddington) and Sarah (nee Flear, from Hough on the Hill).  His paternal grandmother was Frances Dring from Marston.   Jimmy had an elder brother, William, and elder sisters Elizabeth, Lucy and Frances.  Frances became a teacher.  James (snr) died in 1911.
In 1912 Jimmy married Katherine Levesley at Fulbeck, where they lived at Ermine Cottage and had a child.  He joined 11th Battalion, Sherwood Foresters soon after war broke out.  He was wounded twice.  On discharge from hospital April 1917 he was promoted to L/Sgt.  He was killed in the front line trenches by a direct hit from a shell on 16 Sep 1917 during the Battle of Passchendaele.  His name is on the Tyne Cot Memorial, as well as the Fulbeck War Memorial (there is no war memorial in Dry Doddington).
His brother William had died a few weeks earlier (he seems to have been a miner in the Worksop area).  His widow Katherine moved to 13 Exchange Road, West Bridgeford.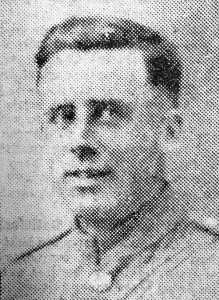 George Edward Bellamy
George Edward Bellamy was the elder son of Richard and Mary Anne Bellamy of The Holmes, Westborough.  Richard was a farm labourer, born in Stubton.  Mary Anne was from Welton.
During the Great War George Edward served with 9th Battalion, Sherwood Foresters, before being transferred to 8th Battalion, South Staffordshire Regiment.
He was killed on 23rd April 1917 during the Second Battle of the Scarp, part of the Arras Offensive.  He was 21.  His body has not been identified but he is commemorated on the Arras Memorial.
.