Henry (known as Harry) Fisher was born in Coleby c1896. His father John was an agricultural labourer, also from Coleby. His mother Lucy was from Langton by Wragby.

In 1901 the family were living at Skinnard (Navenby Low Fields) but then moved to Caythorpe, where Harry was working on a farm by the age of 15. He was also in the church choir. Around the start of the WW1 John and Lucy moved back to Coleby, then to Park St, Lincoln; but Harry seems to have stayed in Caythorpe. He was employed by Mrs Hunt of Boothby Pagnell.

In May 1915 he volunteered for the Lincolnshire Regiment at Sleaford and was sent to France after completing training. Although his battalion was heavily engaged on numerous occasions, Harry was practically unscathed. Then around the end of September 1916 he was transferred to 1st Battalion Kings Own (Royal Lancaster) Regiment.

During one of the later battles of the Somme campaign he was fatally injured and died of wounds on 21st October 1916, aged 21 years, probably at No.21 casualty clearing station. He was buried at La Neuville British Cemetery. A memorial service was held at Caythorpe.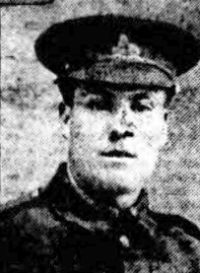 Fisher Family
John and Lucy Fisher had 6 surviving children:
Martha born Coleby c1893
Joseph Samuel born Coleby c1895
Henry (Harry) born Coleby c1896 (or Nottingham)
Catherine E born Coleby c1897
David William born Coleby c 1900
George born Skinnard c1902

Another of their sons served in the Lincolnshire Yeomanry during the war.
A George Fisher is listed on the Coleby and Navenby War Memorials. He hasn't been traced, but he could have been John and Lucy's youngest son (if he'd lied about his age).