Thomas Green was born in Caythorpe in 1890. In Feb 1907 he enlisted in 17th Lancers and spent much of the following years abroad, including 6 years in India (he was with the 10th Hussars in India in 1911). At the outbreak of war in 1914 17th Lancers were recalled to England and quickly sent to France to join the BEF (the 'Old Contemptibles') in Sep 1914.

He suffered fractured ribs and injuries to hand and foot when his horse was shot from under him. In 1916 he donated a pint of blood to save the life of a comrade. In 1917, after 2 ½ years in France, he was sent to Ireland. On 10 Jun 1918, he married Catherine (Kay) Griffiths in Weybridge (Surrey). She was 30 years old and the daughter of an engine driver.

In October 1918 he was a sergeant (aged 28) and came home on furlough (leave). But on returning to Ireland he caught a chill which turned into pneumonia.  He died in King George Hospital, Dublin, on 13th November (2 days after the armistice).

His body was brought back to Caythorpe and buried with full military honours, the coffin being carried by 8 sergeants from the Machine Gun Corps (from Belton Camp) with a procession followed by the band of the Machine Gun Corps.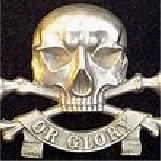 Green Family
Thomas' father was John Thomas Bailey Green, who was born in Easthorpe/Muston Gorse (Bottesford) c1862. In 1881 (age 19) he was living in Woolsthorpe and working as a hawker. Five years later (7 Jun 1886) he married Anne Wetherill at Caythorpe. They lived in Caythorpe (although the christening records for the children state they lived in Carlton Scroop). John Thomas worked as an ironstone quarryman and general labourer.

They had 10 children, of whom 6 survived to adulthood:
Fred c 1887
Thomas 1890
William c1893
David c1897
Edith Annie c 1902
Rose c 1903

In 1911 Fred was a labourer (visiting the Griffiths family in Connah's Quay, Deeside), William (19) was a baker, working for Robert Tyler (baker and grocer) in Gelston and David (14) was living at home and labouring in the ironstone mines.

By Nov 1918 Fred was a Cpl in the Royal Welsh Fusiliers. William was in France, as a Cpl in the Welsh Regiment and David was a private in the Machine Gun Corps in India.

As well as her eldest son, Anne lost 2 brothers (Walter and David Wetherill).