Frank Albert Thick was born in Wimborne, Dorset and wife Mary was from Hampshire.  Frank became a coachman and around 1890 he came to work at Honington Hall.  Their children were:
Lillian Emma            b Sunninghill, Berks abt 1888

Frank William          b Honington 1891

Frederick Spencer   b Honington 1894

Olive Ellen                b Honington abt 1896

Albert Cecil              b Honington abt 1902
After Mary died in Nov 1910 Lilian kept house.  In 1911 Frank was a clerk, Frederick (16) was working as a gardener and Olive was an apprentice (possibly drapery/millinary).
In Feb 1916 Frederick volunteered for the Sherwood Foresters at Bourne. He was mobilized in April and joined 15th Battalion. This was one of the special bantam battalions for soldiers under 5ft 3in tall (Frederick was 5ft 2¾ in).   He joined them in France in Jul 1916 and was home on leave in Sep 1917.  On 1st March 1918 they were taken out of the line to provide working parties. Then (from 9th March) for 2 weeks training as GHQ reserve.  But on 21st March the Germans launched their all-out offensive on the Somme front.  Two days later the Battalion was moved by train to near Mericourt and then marched overnight to Maricourt.  At noon on 22nd they were ordered forward to counterattack, but the Germans were able to outflank the 2 leading companies, most of whom were lost. The remainder withdrew and continued to retreat for the next 2 days, often under heavy shellfire.  Private Frederick Thick was reported missing in this action and was assumed to have died on 28th Mar.  He has no known grave but his name is on the Poiziers Memorial as well as the Honington War Memorial.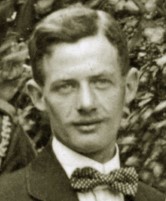 In 1915 Frank married Miss Brodrick of Welby.  He seems to have served during the Great War but it's not clear which unit he was with.  He died in 1960.