Percy Achibald Rawding
William Rawding (born 1864) from Brant Broughton married Jane Nicholson from Billingborough, Lincs in 1886.  They lived in Brant Broughton and had 4 sons:
William                 1887
Harry                    c1891
Percy Archibald   1894
Albert Edward    c1897
William senior (Willie) worked as a farm labourer, in 1939 he and Jane were living next to the post office in Brant Broughton. He died in 1952.
William junior became a motor driver and mechanic.  In 1910 he married Ada Musson at Grantham Registry Office.  They had 2 daughters then a son.  A second son was born in 1919 but died less than a year later. In 1914 William joined 1st Battalion, Lincolnshire Yeomanry and was on the Mercian when it was attacked by a U-boat.  He went to serve in Egypt.  He later transferred to the Machine Gun Corps.  He was released to the reserves in Jul 1918 after 4 years' service.  He initially returned to Brant Broughton but then moved to 74 Beverly St, Nottingham where he became a taxi driver.  However, in Nov 1919 he re-joined the Army, volunteering for the Royal Army Service Corps as an MT driver.  He served at Avington Park and then the Rhine Army and qualified as a heavy lorry driver before leaving a year later.
Henry (Harry) worked in munition production before joining the 3/4th Battalion, Lincolnshire Regiment in Nov 1915.  He later transferred to the Sherwood Foresters. In 1917 he was reported missing in action, but later turned up in German POW camp. After the war he married Ada Harris.  He died in May 1963 at his home on Front St, Brant Broughton.
Percy became a blacksmith.  He was apprenticed to Coltron and Son in Brant Broughton, then worked for Mr McKears in Long Benington.  During the war he volunteered for 2nd Battalion, Lincolnshire Yeomanry as a shoeing smith.  He later served with 88th Siege Battery, Royal Garrison Artillery as a farrier corporal. He was killed by a shell on 27 Apr 1918 during the German spring offensive.  He is buried at Canada Farm Cemetery, North West of Ypres.  His name is on the Brant Broughton war memorial and on the Long Bennington Roll of honour.
Albert was the first man in the village to enlist.  He'd been an apprentice joiner when he volunteered for the Lincolnshire Regiment on 28th Aug 1914, aged 17.  He trained as a signaller and was sent to Gallipoli with 6th Battalion.  He later served in France and was discharged in 1919.  In 1923 he married Grace Mary Goodband.  Albert died in 1984.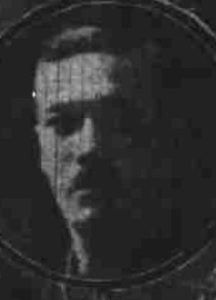 Their cousin Rueben Colton had been a police constable in Liverpool.  He volunteered for 19th King's (Liverpool) Regiment (3rd Liverpool Pals) and died on the Somme in July 1916.