Henry Cooper was born in Hereford in 1883.

He married Caroline Peach (from Fulbeck) on 1 Nov 1905 at Newark. Initially they lived in Fulbeck, where they had a son (Charles Henry) on 17th April 1907. In 1911 they were living in Sudbrooke where Henry was working as a groom. By Dec 1915 he was a gardener and they were living at Court Cottages, Caythorpe.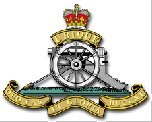 He volunteered at Grantham for the Royal Garrison Artillery in 1915, but wasn't called up until August 1916. He joined 237 Siege Battery, which was equipped with 6 inch howitzers. The battery arrived in France on 23rd January 1917 and struggled along the icy roads to take up a position at the convent in Ypres. Here they were heavily shelled by Germans and 3 of their 4 howitzers were destroyed.

Henry was killed in action on 16 Aug 1917, on the first day of the Battle of Langemarck (the 2nd allied attack in 3rd Ypres (Passchendaele) campaign. He was buried at New Irish Farm Cemetery.