William Watson of Barkston married Mary Preston (born Denton) in 1837.  They lived in Barkston and had at least 8 children including William (1844-1890) and George (1852- ).
William Watson (jnr) married Lucy Allett from Sudbrook.  They lived next door to his parents in Barker's Yard, off West St, Barkston.  William worked as a machinist. They had 7 children, the 6th of whom was Bernard (born 1887).   William died (aged 46) in 1890. 
In 1901 Bernard (14) was a farm boy.  In 1907 he married Charlotte Rawden (from Culverthorpe) and they went on to have a son and 3 daughters, with the youngest being born in 1916.
Bernard was a farm labourer, working for Mr Cotham, when he joined the Lincolnshire Regiment in April 1916.  He was sent abroad in July 1916 and was killed in action on 26th September 1917, probably during the Battle of Polygon Wood – part of the 3rd Ypres (Passchendaele) campaign.
He has no known grave but is listed on the Tyne Cot Memorial as well as the Barkston war memorial.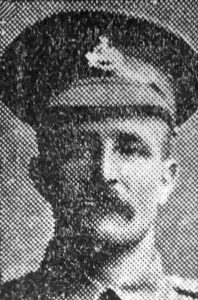 Charlotte was left with 4 small children.  In 1939 a Charlotte Watson of the same age was a servant in London Road, Grantham.  That Charlotte married Noel Codd (of Jericho Lodge, Syston) in 1952 and died in 1955.
Williams's younger brother George married Ann Flower in 1880.  They moved to Yorkshire, where a son, Horace, was born at Rosedale Abbey (Yorkshire Moors) in 1878 but Ann died the same year.  In 1881 George was an ironstone miner, living with another brother in Eston, near Middlesborough.  Later that year he married Mary Emma Rouse.  Their son, John Charles, was born in Eston in 1882 but Mary died shortly afterwards.  George and the boys then moved back to Barkston, where he married again in 1890, to Charlotte Pratt from Gelston.  In 1891 they were in West St, Barkston where George was a threshing machine owner.  Charlotte's parents were in the same house and George's father (William snr.) was next door.
By 1911 John Charles was in the Army, serving in Hong Kong as Corporal in 1st Battalion, Kings Own Yorkshire Light Infantry.  In 1914 he was serving in 2nd KOYLI when he was killed in action on 1st November, during the first battle of Messines, south of Ypres.  He has no know grave but is listed on the Le Touret Memorial