Hickman and Craddock Families
Frederick Hickman
Frederick Hickman was born 1882 in Elston (Notts) where his father John was a joiner carpenter.  John Hickman died when Frederick was 4 and his mother Jane later married John Wilkinson, the village wheelwright and Methodist preacher.  They had several more children, adding to the 5 Hickman offspring.  Jane died in 1903.
Frederick became a wheelwright, working with his stepfather.  He then emigrated to Canada where he became a farmer in Saskatchewan.  In Oct 1907 Lucy Craddock of Belton sailed to Canada on the Empress of Ireland to marry Frederick in Winnipeg.  We don't know how they'd met, but perhaps either Frederick or his younger brother John (a gardener) worked at Belton House.
Frederick returned to England for a visit in 1909, sailing from Halifax from Liverpool.   In 1913 their daughter Mary Elizabeth Hickman was born in Belton; but she died in Canada 2 years later.  Another daughter, Delphine was born in Saskatchewan c 1916.
Frederick became a successful farmer before he joined the Canadian Army in Edmonton in Jan 1916.  He was aged 33, 5ft 10 tall with dark hair and light blue eyes.  In May 1916 he joined 8 Field Ambulance with the Canadian Expeditionary Force in Europe.
He later joined the Canadian Military Police Corps (perhaps when it formed in 1917).  He became a Corporal and was awarded the Military Medal.  In the spring of the spring of 1918 he transferred to the Western Canadian Cavalry.  
He was killed in action near Arras on 27th August 1918 and was buried in Faubourg D'Amiens Cemetery.  He was 36.
His name is on the Belton and Elston war memorials.  At Elston services were held in All Saints Church and the Wesleyan Chapel.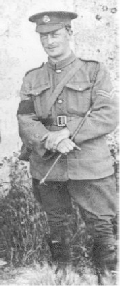 Craddock Family
Lucy Delphine (born 1882) was the 2nd daughter of Francis Henry & Mary Eliza Craddock of Belton.  Francis (born Harlstone, Northants c1861) was a carpenter and the clerk of works at Belton House.   Their house was next to the Lodge (next but one to Gardeners Cottage, where Walter Emerton lived).
In 1892 Francis was made Honorary Knight of the Primrose League by request of Lady Brownlow.  In 1897 he was appointed as the special constable for Belton.
Francis was the foreman of the jury in a couple of local cases.  In 1892 he heard the case of the death of Esther Elizabeth Bradley of Syston.  She was 33 and had been found head down in a soft water butt at Gipple Farm.  She'd recently had a baby which was more than 2 months premature and had depression.  She'd been hysterical during the pregnancy so her sister had been sleeping with her since her confinement, 3 weeks before her death.
In 1896 he was foreman in the case of Joseph Quincy Stevenett who was 67 and employed in the gardens at Belton House.  He poisoned himself by taking liniment instead of medicine.  John Saxelby  was on the jury.
In 1901 he was a guest at the Annual Dinner for A (Althorpe) Company, 1st Volunteer Battalion, Northamptonshire Regiment, held at Althorp Hall by Major the Honourable CR Spencer, 6th Earl Spencer (Lady Diana's great grandfather).  Members of the company were just back from the Boer War and Colour Sergeant W Craddock (probably his brother) was a key figure.  
In 1907 when Lucy married in Canada, Countess Brownlow of Belton House sent her many presents. Her brother William Craddock, went to Canada in 1908 and was living next door to Lucy after the war.  In 1913 Francis Craddock (another brother) also moved to Canada.
After Frederick's death Lucy became the farmer.  In Dec 1920 she and Delphine (now 4) sailed from St John to Liverpool to visit her parents in Belton.   In May 1921, after 39 years' service at Belton House, Francis and Eliza sold all their furniture, cycles etc and moved to Canada to live with Lucy.