Aviation History in Loveden villages and surrounding area
Allington – 10th August 1943
Pilot Officer Sigfred Johannes Christophersen learnt to fly with the Danish Army before the war.  In December 1940 he escaped from occupied Denmark to London, via Istanbul, Cyprus and Cape Town.
He volunteered for the RAF but was recruited by the Special Intelligence Service, trained as a radar operator and parachuted back into Denmark
By Feb 1942 he was so compromised that he was ordered to leave the country.  After being picked off the ice by Swedish fisherman he was arrested in Sweden.  In Jun 1942 he was sent back to England and locked up for a while in Brixton Prison.
On his release he joined the RAF and was sent for pilot (re)training in Canada.  On his return to England he married Mary A B Wood in St Albans.   
On the night of 9/10 Aug 1943 he was flying a Blenheim Mk1 (K7050) from No 12 Pilot Advanced Flying Unit at RAF Grantham, but the aircraft crashed in a field just east of Allington.  It exploded and burnt, killing all 3 men.
It is thought that he lost site of the flarepath at Grantham and was perhaps confused by the Q (decoy) flarepaths set up to confuse German raiders, although there doesn't seem to have been one in the immediate area.
Christophersen was buried at Grantham Cemetery. His widow remarried in 1962.
Ancaster – 12th April 1935
On 12 April 1935 Flight Cadet Dowland was flying a Bulldog from Cranwell when it went into a spin at 2000ft.  He parachuted out and landed in a field near Ancaster.  His aircraft crashed about 400 yds away, between 2 chicken houses and burst into flames.  An 11 year old girl playing nearby ran across to see if the pilot was OK.  Neither the pilot nor the hens were hurt.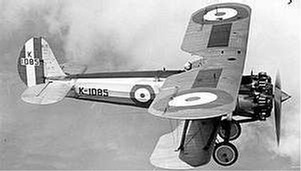 Hougham – 13 Nov 1942
An Armstrong Whitworth Whitley bomber flying on a training exercise, at 300ft in bad weather, was hit from behind by an Airspeed Oxford, also from a training unit.  Both aircraft crashed and burned near the road from Hougham to Brandon, just past the railway bridge.  The pilot of the Oxford and 5-man crew of the Whitley were killed.  Details here.
Old Somerby – 8 August 1923
Robin Rochester Jaques had served in the Army during WW1.  After joining as a private in the Middlesex Regiment he was commissioned as an officer in the Royal Scots Fusiliers and then the Educational Corps. He was also a semi-professional footballer, playing for Clapham Orient and Fulham as well as the Army.  After the war he transferred to the RAF and by the summer of 1923 he was a trainee pilot on 100 Sqn at RAF Spittlegate, near Grantham.
On 8 Aug 1923 he was flying solo in an Avro 504 biplane when he lost control just south of the airfield and crashed in a field between Cold Harbour and Old Somerby.  He was killed instantly and was buried 2 days later in Grantham cemetery. The grave was unmarked until a headstone was erected in 2015 after a local campaign
Robin's family lived in Newton, south of Grantham.  After his death they moved in with his wife's family in Chelsea.  He left two children (who both added a 'c' to the surname):