Thomas Renshaw (1844–1908)
Thomas Renshaw was born in Swinderby.   In 1867 he married Mary Ann Lister from Claypole.  After their first son was born they moved to Sheffield, where Thomas worked as a coal miner.  Then in the early 1870s they settled in Claypole where Thomas worked on a farm.  Their children were:
William Robert (1868-1930) married Mary Pepper from Long Bennington.

John Thomas (1870-1871)

Martha (1875-1958) married James Clarkston Bradford and moved to Barkston

George (1878-1974) married Ellen Elizabeth Ward and moved to the Vale of Belvoir to work in the ironstone mines around Barnstone and Harston.

Henry (1882-1977) – see below

Thomas (1884-1969) joined the militia when he was 18. He married Ethel Anne Lawson and moved to Foston, her home village.

William Henry (1887-1887)

John (1889-1893)

Annie (1891-1893)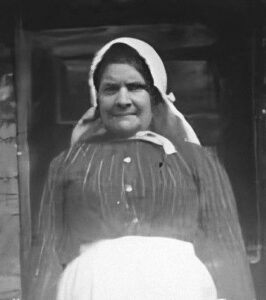 Mary Ann Renshaw (nee Lister)
Harry was born in 1882 and at the age of 16 enlisted in the 17th Lancers and was shipped to South Africa to fight in the Boer War. During this time, he was awarded several medals: the Queen's South Africa, the Cape Colony and two others.  After he was discharged in 1904 he returned to Claypole, where he married Elizabeth Tinkler in 1906.  
In 1911 they were living in Stubton with Henry's widowed mother.  He was employed looking after the vicar's garden and kennels.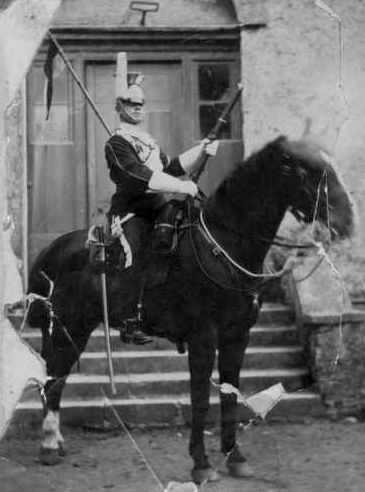 Harry whilst serving with 17th Lancers
In 1914 Harry enlisted in the South Staffordshire Regiment and was made a sergeant due to his prior military service.  He served in France and in Aug 1916 was awarded the Military Medal followed a few months later by the Distinguished Conduct Medal for conspicuous gallantry in action ("He dug a trench under very heavy fire.  Later, although wounded, he carried on the work with his platoon for 3 and half hours, displaying great courage and determination").  
After the war he returned to gardening and moved to The Hollies, Westborough.  He died in Westborough in 1970.